As we get deeper into the trenches of the summer season, I've been feeling like I need to switch up my warm-weather style and add a few more unique pieces to my wardrobe. Summer clothes can often fall into the same old formulas: comfy shorts and a tank, a dress and sandals, or jeans and a top. While I love all of those outfit combinations, I like to swap in some fun items to mix things up.
Summer fashion allows for some experimentation with the things you wear—brighter colors, funky patterns, beach-inspired textures, and more. I've been in a heavy shopping mood lately, so I have tons of fun things that I've recently added to my wardrobe or have in various carts across the internet.
From bags and jewelry to sandals and clothing, these 15 items are guaranteed to get you out of your summer-style slump. 
Madewell
Clementine Hoop Earrings
As mentioned, I love fun and colorful jewelry for summer. While you can go the typical route of bright colors and unique textures, you can also opt for a cute print or pattern like these little clementines. These hoops are a great way to dress up a classic white tee.
L.L. Bean
Boat and Tote
The iconic L.L. Bean Boat and Tote will never go out of style, but it's definitely having a moment right now. The only reason I haven't ordered one yet is because I haven't figured out what I want my customization to say—if you need inspo like me, you won't regret taking a peek at @ironicboatandtote on Instagram.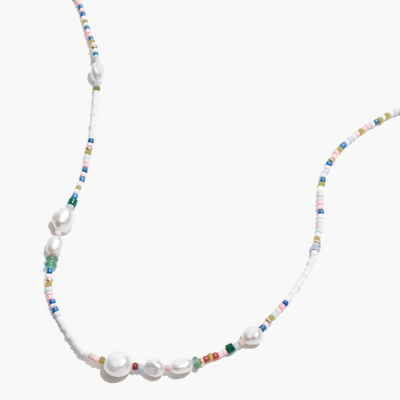 Madewell
Pearl-Mix Beaded Necklace
Fun, colorful jewelry always makes a resurgence during the summertime, and this season is no exception. I'm obsessed with the merging of two trends in this pearl and beaded necklace from Madewell.
Etsy | FitHabit
Tennis Club T-Shirt
Oversized graphic tees are an absolute necessity for summer, as they are the ideal companion to your favorite pair of biker shorts. This Hamptons Tennis Club T-shirt from Etsy combines that comfort with one of our favorite trends: prep.
Target
Easy Linen Tank Dress
If there's one thing I'll be wearing all summer long, it's an easy midi dress. They're comfortable, keep you cool, and make you look instantly put-together with very little effort. This breezy option is only $20 (!!) and comes in a bunch of cute colors and patterns.
Target
Oversized Button-Down Boyfriend Shirt
I've been really into blue and green this summer, but I want to add a few more pops of bright and trending colors, like pink and orange. I absolutely love a matching set, and this one from Target is a great affordable option. Don't forget to snag the matching shorts as well.
H&M
Small Patterned Tote
I bought this tote at the beginning of summer, and I truly have been wearing it nonstop. I brought it on a beach trip, but I also have worn it a ton in my day-to-day life. It fits everything that I need and provides the perfect fun touch to any otherwise basic outfit.
Ellie Vail
Water & Sweat Resistant Hoops
One of the constant debates I have with myself is whether or not I should wear any jewelry to the beach or pool. I feel cuter with it on, but I don't want to risk tarnishing or losing any of it. These water and sweat resistant hoops solve that problem—and they also have a huggie-style clasp, so they are more secure than your typical hoops.
Amazon
Platform Strappy Sandals
I've been eyeing a few pairs of more expensive platform strappy sandals, but when I saw these on Amazon, I immediately added them to my cart. I pretty much live in platform sandals all summer long (fellow short girls know), and these are the perfect addition to my lineup.
Zara
Retro Denim Shorts
We've talked a lot about how denim short styles have evolved, so it's no secret that longer, relaxed denim shorts are the ones to have this year. My favorite denim shorts are from Zara—they are SO comfortable—so I'm definitely looking to pick up another pair.
Abercrombie
Asymmetrical One-Shoulder Top
I am constantly looking for unique tops that I can pair with jeans or trousers for a nice dinner or a night out, because I always feel like I can rely on that outfit formula. I'm also obsessed with one-shoulder necklines right now, so this top was an immediate "yes."
Amazon
Chunky Square Sunglasses
I had been wanting a pair of green sunglasses for a while now, and I finally found them when I purchased this pair. I love the color, the size, and the chunky frames—and I get tons of compliments every time I wear them.
Old Navy
Vintage Sweat Shorts
Our editors, our readers, and the world of TikTok alike are absolutely obsessed with these Old Navy sweat shorts. Not only are they super affordable, but the 5″ inseam makes you feel on-trend and like you're achieving that model-off-duty look.
Target
Raffia Platforms
I let out an audible gasp when I saw these sandals on Target's website. They are the perfect blend of Y2K and modern style, and I think that they would really elevate any outfit. They also come in black, and I might just have to get both.
Amazon
Pleated 2-Piece Set
I saw this under-$30 Amazon set on TikTok, and it immediately went to my wishlist. The pleated satin fabric is super chic, so this set can definitely be dressed up with heels and a bag for dinner or going out.
35 Beach Essentials That'll Make Summer 2022 Your Most Stylish One Yet