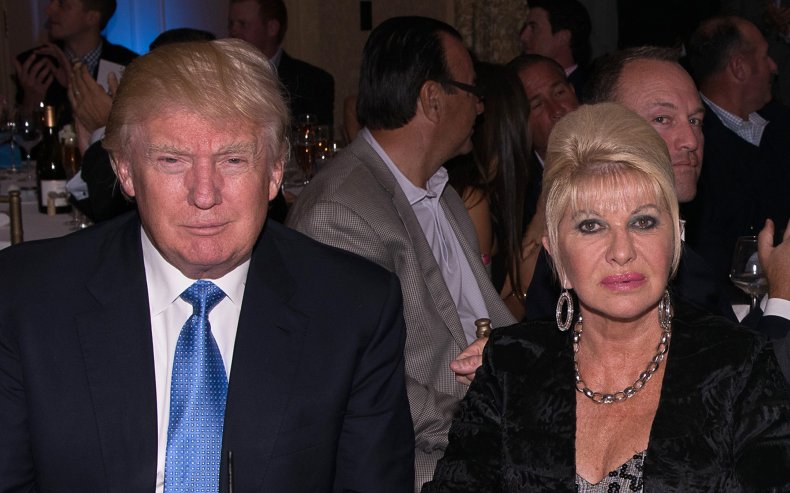 The words "Wrong Trump" trended on Twitter after former President Donald Trump announced the death of his ex-wife Ivana Trump on Thursday.
Ivana Trump, who died at the age of 73, was the mother of Donald Trump Jr., Ivanka Trump and Eric Trump. The Czech-born businesswoman and ex-model divorced the future president in 1992 after 15 years of marriage. Regardless, the former couple remained relatively close in the years that followed, with Ivana and her fourth husband Rossano Rubicondi even choosing to hold their 2008 wedding at the Mar-a-Lago resort.
Donald Trump described Ivana as "a wonderful, beautiful, and amazing woman, who led a great and inspirational life" while announcing her death on his Truth Social platform. Ivana's death soon became the top trending topic on Twitter, although it trended alongside "Wrong Trump" and "Donald" due to tweets from those suggesting that they would have preferred the former president to die instead of his ex-wife.
"I see 'Wrong Trump' trending," sportswriter Jeff Pearlman tweeted. "Not gonna lie—I'd said that to my fam a few minutes earlier. I don't root for deaths. But exception can be made for an aspiring authoritarian with nary a decent bone in his body (who, for that matter, openly celebrated John McCain's death)."
"A Trump in their 70's dies and they got the wrong one," tweeted Mad Dog PAC founder Claude Taylor.
"BREAKING: Wrong Trump Dies," tweeted comedy writer Brad Wollack.
"Ugh, wrong Trump," music publicist Judy Miller Silverman tweeted. "How is the insane, corrupt, fast food guy still alive?"
"Well, Death, you turned over the wrong Trump," tweeted author William Shunn.
"Once again, the wrong Trump," comic book writer Matt Miner tweeted.
"Terrible thing to say. But the wrong Trump died," tweeted user @corruptvoltaire.
"So many people have posted 'wrong Trump' about Ivana Trump dying that God has made a statement," multimedia journalist David Leavitt commented while sharing the following from the @TheTweetofGod Twitter account: "Donald will be in hell soon enough. But first I want him in jail."
Some of those who may have helped "Wrong Trump" trend were condemning the sentiment. Conservative columnist Todd Starnes shared an article from his own website that described the tweets as a "nasty reaction" from "Democrats," concluding that "Trump Derangement syndrome was on full display."
"'Wrong Trump' is trending after Ivana Trump's death," tweeted @RamRishiRam. "I guess wishing death on someone doesn't violate Twitter's terms of service."
"I'm stunned by Ivana's passing," @MikeLee762, a self-proclaimed "Great Ultra-MAGA King," tweeted. "Evil democrats will say it was the wrong Trump."
Others disagreed with the use of "Wrong Trump" for different reasons.
"People are tweeting 'Wrong Trump'! I disagree!" tweeted @Judson4America. "Traitorous pieces of human garbage like Don The Con should experience a *UNIVERSE* of Pain and Suffering here before they are allowed to safely escape into death. I hope Donald lives to be 110!"
The cause of Ivana Trump's death was unknown at the time of publication. However, she was discovered dead at her home after the Fire Department of the City of New York responded to a report of cardiac arrest, according to NBC News.
Newsweek has reached out to Donald Trump's office for comment.